Wimbledon Men's Final 2018: Novak Djokovic versus Kevin Anderson preview and prediction.
Novak Djokovic reached his fifth Wimbledon final after ousting Rafael Nadal 6-4, 3-6, 7-6 (11-9), 3-6, 10-8 in the semi-final which lasted 5 hours and 15 minutes.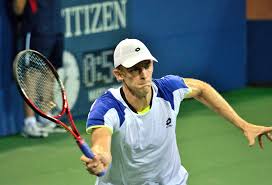 Kevin Anderson's semi-final against John Isner lasted 6 hours and 36 minutes.
As lengthy as Novak's semi-final was it still fell short of the record-setting 6 hours 36 minutes semi-final between, the skyscrapers, John Isner and Kevin Anderson. Their match was a barrage of aces peppered with short points and should be the blueprint for grass court tennis albeit with a lower bouncing and faster surface. We have, just about, had it with the high-bouncing slow courts in pro-tennis. Moreover, the slams should reconsider the introduction of the tie-break in the fifth. Isner clocked 53 aces and 129 winners to Anderson's 49 aces and 118 winners in his five-set loss which went, 26-24, fifty games in the fifth set alone.
Kevin Anderson also came back from two sets and a match point down, in the hours and 14 minutes battle, against Roger Federer in the quarterfinals. Kevin has had 10 hours and 50 minutes of tennis as compared to 1 0 hours and 3 minutes by Novak since Wednesday.
Novak Djokovic semi-final against Rafael Nadal lasted 5 hours and 15 minutes.
Novak missed many opportunities, in the very first game of the fourth set, to earn an early break, but Rafa was quick to capitalize on his break-point opportunity and won the fourth 6-3. The fifth set was an intense battle between the two with neither able to break the other.
Eventually, it was Novak who came through in the 18th game of the fifth set to capitalize on his match-point and earn a spot in the finals.
Novak Djokovic versus Kevin Anderson.
On paper the match is a cinch for Novak Djokovic, he has won Wimbledon thrice before, leads Kevin Anderson 5-1 in their head-to-head, and has spent 15 hours 34 minutes as compared to 21 hours by Kevin Anderson to reach the finals. Kevin, however, is in no mood to subscribe to the past champion or head-to-head advantage theory nowadays and will show no deference for Novak's past today. Kevin is as dangerous as they come and, even in the glory days of Novak Djokovic, stretched Novak into fifth with a two-set lead during their previous Wimbledon encounter in 2015.
It will be a battle between Novak's retrieving abilities and Kevin's damaging serves, early strike, and risky tennis.
Conclusion: Novak Djokovic with a 51% and Kevin Anderson 49% chance of winning.