The Mystery that is Nick Kyrgios
https://www.youtube.com/watch?v=lhoB4COtwSI
Seems like Nick needs to lay off the Pokemon GO. Or maybe that's what he's playing while he nurses his knee and gets his mind off the harsh loss to a seventeen year old Canadian Denis Shapovalov, at the Davis Cup.
When I looked at the stats I was more than surprised. Okay, 44 unforced errors is believable from a ball basher like Nick, but 18 double faults? Isn't he a serve bot, or has he suddenly morphed in Dementieva?
Well I guess he is if he could still serve an ace while throwing his racquet.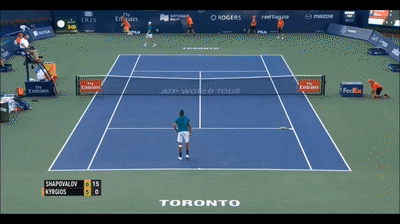 Of course, Denis has the makings of becoming a menace, especially since he just won the boy's Wimbledon title, but this article is not about Shapovalov, its about Kyrgios.
Kyrgios is probably the most controversial player on tour as of now. No, he's not controversial in the fact that he dopes, or that he stole another players coach, or that he's dating someone on the woman's tour. His controversies mirror those of a celebrity. From his crass comments to his blatant nonchalance on social media and sometimes on court, it's hard to believe that a generation that grew up watching people like Roger Federer, and even Nadal with his impeccable sportsmanship, will be subjected to the likes of Nick.
The number of questions just rise. Yes, Nick is young. He's only 21, learning about the game, himself, but doubters don't look at age, and the number of people who doubt Nick's sincerity and focus to win the bigger titles, and eventually become a respected name in the world of tennis, have just increased.
Some of the things Nick Kyrgios said during the match were:
This is a joke.
I can't play.
I don't want to be here.
I'm going home.
It seems like Nick has an egg that needs hatching and is just dying to get back to Pokemon GO.