Nadal survived and Tsitsipas soared at the Nitto ATP Finals in London
At the Nitto ATP Finals in London, Nadal survived and Tsitsipas soared against formidable opponents on Wednesday. Rafael Nadal recovered from the brink of a third set debacle to win 6-7 (3-7) 6-3 7-6 (7-4) against Daniil Medvedev. Stefanos Tsitsipas walloped Alexander Zverev – the 2018 champion – 6-3, 6-2 with a scintillating display of all court aggression.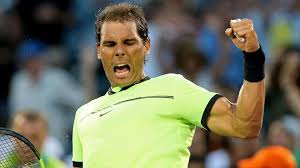 With Nadal, it's not over till it's over.
Rafa Nadal is a true warrior, and every point – for him – is a match-point. And, the world witnessed, and Medvedev experienced just that on Wednesday. Rafa somehow found a way to win from a match-point and 1-5 down in the third! The match was replete with long rallies from the baseline with neither willing to create opportunities to approach the net.
Nadal evened the score from 1-5 down and allowed Daniil only 4 points in the tie-break. The thrilling comeback – by Rafael Nadal – was one of the best this year. It showcased his trademark, "fight until death," spirit, and confirmed that it's not over till it's over, with Nadal .
Nadal was humble in his after-match interview and attributed his win – against Medvedev – to luck.
"This match is one of those that one out of 1,000 you win," Nadal said.
While Nadal survived, Tsitsipas soared his all court aggression.
Tsitsipas made his debut, with two consecutive wins in the group stages and clinched the semi-final berth. He schooled Zverev in the nuances of all court aggression by taking the ball early and rushing the net. Stefanos had deployed the same aggressive game plan, and net-rushing tactics against Medvedev on Monday. He continued with the winning ways against Zverev and scored an easy win on Wednesday. Tsitsipas didn't allow Zverev time to execute his shots, and Alex appeared a little rushed and flustered.
We, at 138mph, believe Stefanos Tsitsipas is more talented than Zverev, and yesterday's performance by Stefanos vindicated our belief.
"I did everything right and once again it was not just me out there but a whole bunch of excited people who came to support me," he said.
Stefanos' consistent aggression was responsible for Sascha's inability to play at a high level. Zverev, however; can still reach the semi-finals if he manages to score a win over Medvedev on Friday.