Murray claims first title after hip surgery earlier this year.
After pondering retirement in January this year, Andy Murray claims first title after hip surgery. Murray overcame a stiff 3-6 6-4 6-4 challenge from Stan Wawrinka, to lift his 46th career title in Antwerp, last Sunday. This one, however; came in over two and a half years and after a hip resurfacing surgery from which no player has ever made a title winning return in singles.
From near retirement in January, Murray claims first title nine months later.
Andy Murray broke down in tears at a press-conference ahead of his first round match against Roberto Bautista Agut at the Australian Open this year. "I'm not sure I'm able to play through the pain for another four or five months. I want to get to Wimbledon and stop but I'm not certain I can do that," Murray said ahead of his first round loss to Agut.
Murray's career has come a full circle, in the last nine months. From pondering retirement in a tearful Australian Open exit, to the tears of joy and relief upon winning the European Open last week. He experienced it all and overcame all odds to claim his first title, with a metal hip.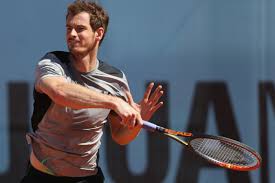 Murray's journey from the hip surgery to finding his groove.
Andy underwent a hip resurfacing surgery in January this year, and in March admitted that he was pain-free. He started playing doubles in June and gradually transitioned to singles in August. He lost his singles' comeback match, after the surgery, to Richard Gasquet in the Cincinnati Masters. After a few more early round losses in Asian circuit, Andy found his groove in Antwerp last week.  
"It's amazing to be back playing against Stan in a final like that, he was playing unbelievable," Murray said on court with tears in his eyes.
"I never expected to be in this position so I'm very happy. Stan was hitting winners from everywhere but I managed to hang in there. This is one of my biggest wins after everything."
With his recent win in the Antwerp final, Murray extended his head-to-head advantage over Stan to 12-8.