Dustin Brown walloped Alexander Zverev, while Stefanos Tsitsipas was ousted by Nicolas Jarry on separate grass court events
Dustin Brown walloped Alexander Zverev in the pre-quarter of the Stuttgart ATP event, while Stefanos Tsitsipas was ousted by Nicolas Jarry in the second round of the Libema Open in Rosmalen.
June is Dustin Brown's season.
June is the month for Dustin Brown to re-emerge from prolonged hibernation and shock and awe the tennis world with casual upsets of the top-ten and GOAT contenders.
Dustin, eliminated Rafa Nadal from Wimbledon in 2015, added Alexander Zverev to his list of top-ten casualties in Stuttgart yesterday.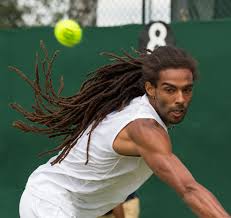 Dustin Brown acknowledged his good run at the event, so far.
Alexander Zverev the top seed of the event –  and ranked fifth in the ATP rankings – lost 6-4, 6-7 (3/7), 6-3 to the German compatriot and 170 ranked Brown who acknowledged his good run in one of the post match interviews.
"I am very, very happy," Brown commented in an interview after the match. "I didn't have a good grass-court swing last year and just wanted to come and play very good tennis. Stuttgart is a little bit at altitude and I think that helped my game.
'I've won three very good matches, two in qualifying and one against John Millman. The court played a little slower today and it was tough especially against Alex, who is a very good returner.
'So I had to make a lot of first serves and the break in the first set helped me to gain confidence."
Dustin will face the Canadian youngster Felix Auger-Aliassime in the quarter-final.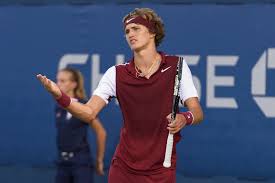 What should Zverev do?
There is no shame in losing to Dustin Brown on the Grass, but we see no hope for Zverev if he doesn't learn to pace himself for the big events and stop playing so many tournaments. This is the third back-to-back event in four consecutive weeks for Zverev! And, that's a bit too much!
Zverev must also become more aggressive and learn to spend considerable time within or at the baseline and near the net to truly take advantage of all the openings his power creates for him.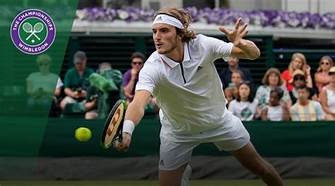 Stefanos Tsitsipas expected a better start to the grass-court season.
Stefanos Tsitsipas probably expected a better start to the grass court season, but all is not lost. He can start the grass-court prep next week again.
Tsitsipas landed only fifty nine percent of his first serve in the 6-4 3-6 6-4 loss. He'll need better preparation if he wishes to do better than his fourth round appearance at Wimbledon last year.
Tsitsipas is being held back by his service action.
Tsitsipas is a true all court player like Roger Federer. He is very talented and quite good at the net too. He is our hope to save tennis from the baseline-bores.
Stefanos, however, is being held back from achieving greater heights by his technically deficient service action. He cannot let the elbow drop, too much, below the shoulder height while taking and dropping his racket behind the back. This single correction to the service action, we believe, will not only prevent his service from breaking-apart during important and crucial points, but also add a few MPH to it.