Cori Gauff surged into the top 100, after win at Linz, at just 15!
Cori Gauff surged into the top 100, with her title win in Austria last week, at just 15! She outplayed Jelena Ostapenko in the final to become the youngest WTA winner since 2004. With the title at the Upper Austria Ladies' Linz, she also became the ninth youngest player to ever win a WTA singles title.
Cori Gauff surged into the top 100, at just 15!
Cori shot to fame by eliminating Venua Williams en route to her fourth round appearance at the Wimbledon, this year. She also enjoyed a breakthrough run, with a third round loss to Osaka, at the US Open 2019. Her extended dream run, however; started earlier in January 2019, ranked outside the top 600. She aspired to make top 100 in 2019 and, with her maiden title last week, is now ranked 71, at 15!
"Last week was great. I definitely didn't expect it, considering I got in as a lucky loser. At the beginning of this year, I never thought that around this time, I'd be winning my first title," said Cori.
"I've accomplished all my goals this year that I wanted to do. Winning a title wasn't on my list this year, but I'm glad it happened."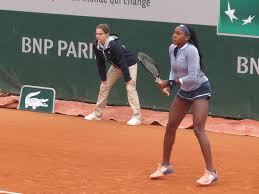 Gauff's early loss helped her play better and more relaxed.
Gauff lost the final match in the qualifying rounds to Tamara Korpatsch. She received a lucky loser break into the main draw after Maria Sakari withdrew because of a wrist injury.
Gauff credits the loss in the qualifying rounds to her breakthrough run and the maiden title at Linz. That loss helped her relax, assess, and adjust the flaws such as rushing and going for too much.
"I was relieved, and I played more free," Cori said. "My body language could've been better, and my attitude on the court. 
"I took that into account and I used what I learned in the next matches. My goal wasn't really to win – my goal was to improve my behavior and attitude."
"I gained more and more confidence in my strokes. I played some tough opponents, so my confidence is doing well, and is high right now."
Gauff catches another lucky break into the main draw.
Gauff's is confident after clinching her maiden title and first top ten win – over Kiki Bertens – last week. She moves onto the next battle ground in Luxembourg, with another lucky break into the main draw because of another withdrawal!